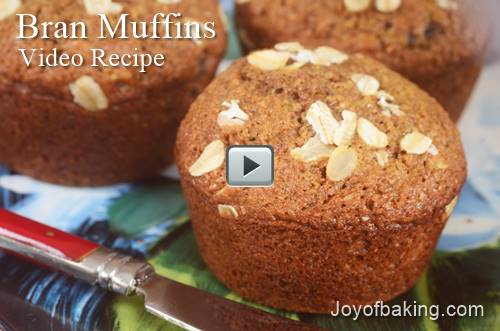 Most of us have two types of muffin recipes in our collection; the ones that we make for special occasions and the ones that are constantly in use. Bran Muffins fall into the second category. While they may not be sophisticated looking or contain exotic ingredients, their wholesome flavor makes them an ideal breakfast food. Of course, bran is usually touted more for its carbohydrate, fiber, phosphorous, and calcium content than for its subtle taste, but these muffins are anything but plain.
The addition of orange zest, vanilla, ground cinnamon, and oats make these Bran Muffins flavor packed. You could also add chopped nuts, raisins, or even dried fruits to the batter with excellent results. To spruce up the look of these muffins I have sprinkled the tops with rolled oats, just before baking. Now, most bran muffin batters, and this one is no exception, keep for a several days in the refrigerator, so you can have fresh muffins on demand. This recipe will give you about 16 standard size muffins.
As far as the ingredients go, although some bran muffin recipes do use a commercial bran cereal, this recipe uses unprocessed wheat bran which is so much cheaper than commercial bran cereals. You can find it in health food stores and in most grocery stores (on the baking isle or in the organic food section). Adding old fashioned rolled oats gives flavor and texture but also gives you Vitamin B-1, B-2 and E. Molasses is used in baked goods to add color, moistness, and flavor. Molasses is usually labeled as "sulphured" or "unsulphured" depending on whether sulphur was used in the processing. I like to use unsulphured molasses which is lighter in color and I prefer its flavor. Buttermilk, along with milk, provides the liquid part of the recipe and as always, buttermilk adds a wonderful tangy flavor and moist texture. You can use commercially made buttermilk, buttermilk powder, or you can make a good homemade substitute by adding 3/4 tablespoon of white distilled vinegar, cider vinegar, or lemon juice to 3/4 cup (180 ml/grams) of milk. Let stand 5 to 10 minutes at room temperature before using.
Click here for the video and recipe.
More Recipes at Joyofbaking.com
Article and Demonstration by Stephanie Jaworski
Photo and Videography by Rick Jaworski
© 2019 iFood Media LLC