This is one of our favorite summer salad recipes: an Easy Corn Salad with bacon, jalapeño and avocado. I've made it several times and everyone raves about the flavors. The sweet corn with the spicy jalapeño, the salty bacon with the creamy avocado; this is the perfect summer potluck salad recipe.
PIN IT NOW TO SAVE FOR LATER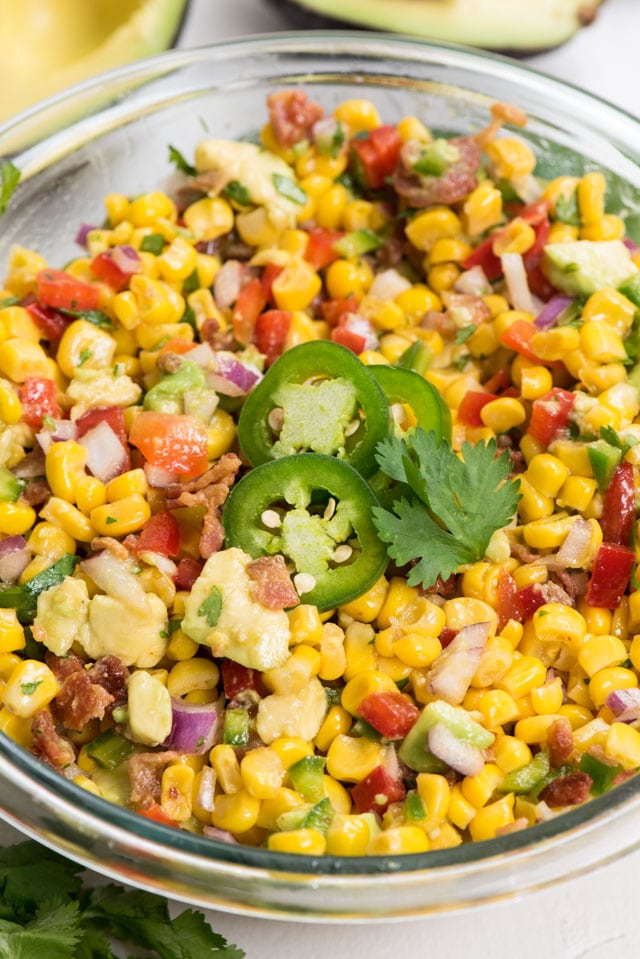 I rarely make any recipes more than once (except when I'm recipe testing). I find that I have so many ideas for new recipes that making the same dish for a second time wastes time. If I'm not going to post a recipe…why bother even making it? That's why you know that we love this recipe: I've made it more than twice now and I will keep making it over and over. It's become one of my go-to potluck dishes because it's so darn delicious!
This salad is great as a potluck recipe, a side dish, or even a simple summer dinner when you don't want to turn on your oven.
Corn is one of our favorite vegetables and we eat it often, all summer long. In fact, I add corn to just about everything all year long and I always have frozen corn on hand. You can make this salad with fresh or frozen corn, making it a great way to use leftovers too.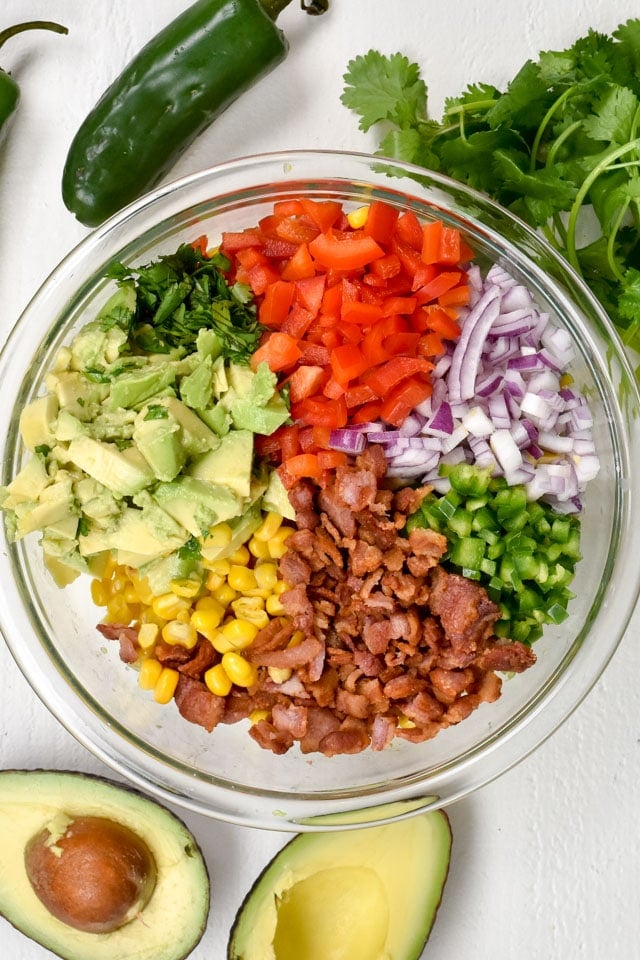 What goes in a corn salad?
A sweet corn salad has to have lots of texture in it, which is why I love adding lots of different ingredients. I always think of bell peppers when I think of corn – probably because we love Mexican food – so I added some red bell pepper to the salad, as well as some chopped red onion. I can't eat corn without peppers and red onion because of a delicious corn and pepper stir fry recipe that I love to serve with grilled chicken. Some day I'll share that recipe.
Corn and avocado go so well together and and bacon and avocado are total BFFs. In fact, whenever I eat one I practically require the other.
There are so many ways to make a salad like this. Mexican Corn Salad or Avocado Corn Salad are both fantastic, and this recipe mimics those. I added jalapeño for spice and cilantro for flavor along with the bacon and avocado.
The post Easy Corn Salad Recipe appeared first on Crazy for Crust.