These Easy Mermaid Cupcakes are the perfect birthday cupcake! Easy to make and fun to decorate; they're the perfect celebration cupcake or just a fun activity to do on a summer day.
Thanks to Wilton I was able to try their new DIY-Lish Kits to make these fun Mermaid Cupcakes. You won't believe how easy they are to make!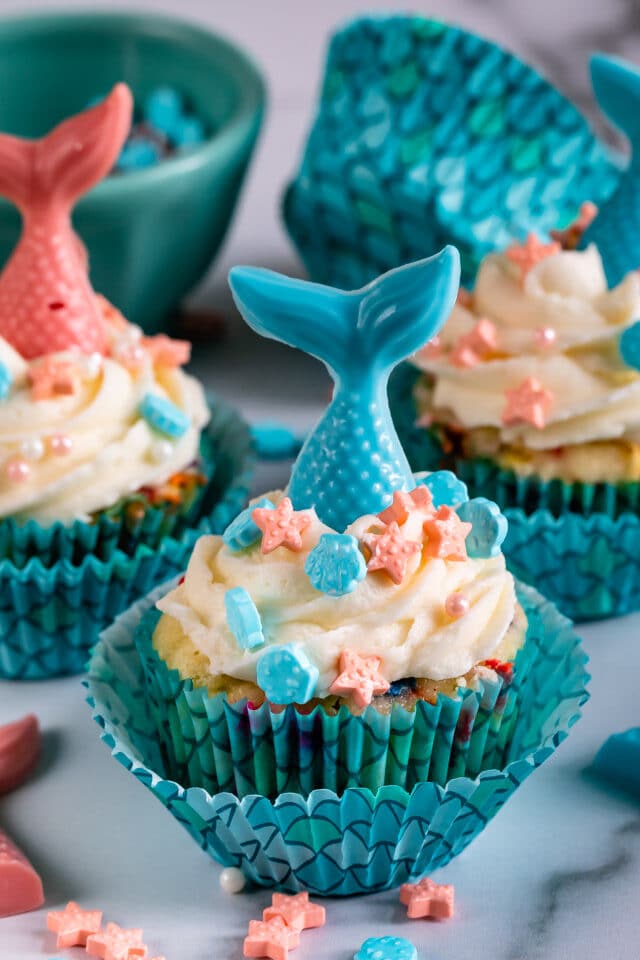 If you guys didn't know, I'm super passionate about Mermaids (and unicorns, rainbows, and now, llamas). I think the 10-year-old girl in me was dormant until I hit 34 and then all bets were off: I want fun, sparkly pink and teal all the things.
No joke: one of my favorite relaxing activities I like to do is search and scroll Pinterest for things like Mermaid Cupcakes, Unicorn cakes, and rainbow treats. I also love to look for gorgeous cakes and sprinkle concoctions because just looking at them makes me happy. (Do you follow me on Instagram? Recently I redecorated my office in a rainbow sprinkle theme – no joke.)
I think one of the reasons I love looking at all those over-the-top cakes and fun decorated cupcakes is that, even though I'm a baker-by-trade, I cannot do intricate and fun detail work to save my life. Rosette cakesare my only specialty and thank goodness for sprinkle covered cakesto cover up my mistakes. So, when Wilton asked if I wanted to try their new DIY-Lish KitsI jumped at the chance. Who wouldn't want to make super cute cupcakes that look professional in about half the time with half the mess (and zero tears). And the result will actually look like the picture!
The post Easy Mermaid Cupcakes appeared first on Crazy for Crust.