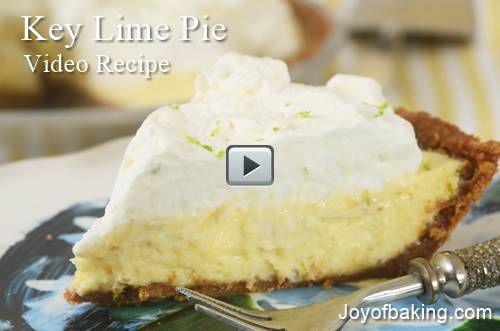 A Key Lime Pie starts with a sweet and grainy Graham Cracker Crust. Next, is a creamy smooth filling that has a delicious Key Lime flavor. Once chilled, it is topped with lots of whipped cream. As its name implies, a Key Lime Pie was first made in the Florida Keys, which is also where Key Limes are grown. John Mariani in 'The Dictionary of American Food and Drink' tells us that the recipe for Key Lime Pie came after the 1856 invention of sweetened condensed milk.
Although the first Key Lime Pies were made with a pastry crust, many recipes, including this one, use a Graham Cracker Crust. It is, by far, the simplest of all the pie crusts to make. Now, the test to see if you have the right amount of crumbs to melted butter is; once you have mixed the ingredients together, to squeeze some in your hand. If the crumbs hold together, then it's ready to press into your pan.
Next, the filling. A Key Lime Pie is made with Key Limes. Key Limes are instantly recognizable as they are so much smaller than a regular Persian lime. In fact, it takes about 20-25 Key Limes to get 1/2 cup (120 ml/grams) of Key Lime juice. Whereas you need only 4-5 Persian limes to get the same amount of juice. Key Limes are a small, round, hard, yellow and green colored, very acidic fruit that grows in Florida. If you cannot find Key Limes in your area, don't fret, as regular Persian limes also make an excellent Lime Pie. An interesting side note; although the filling is made with green limes, the color of the baked filling is actually yellow. The only 'green' you will find is from the flecks of lime zest. However, if you want the filling to be green you could add some green food coloring to the filling. Along with the limes, the filling contains sweetened condensed milk which is made from whole milk and sugar that are heated until most of the water has evaporated. It is a thick, sticky, and very sweet mixture that makes a wonderful Key lime filling. Because the filling also contains egg yolks, we do need to bake the pie until the filling is set.
Key Lime Pies can have either a meringue or a whipped cream topping. I prefer whipped cream. Use cream that is labeled as "Heavy" Cream or Heavy "Whipping" Cream which means it has a 36 – 40% butterfat that will double in volume when whipped and hold its form.
Click here for the video and recipe.
More Recipes at Joyofbaking.com
Article and Demonstration by Stephanie Jaworski
Photo and Videography by Rick Jaworski
© 2019 iFood Media LLC