A No Bake Cherry Cheesecake Dessert is the perfect way to celebrate summer! With an Oreo crust, a no bake cheesecake center and a cherry pie filling on top this is the best dessert for a potluck.
This post is sponsored by Challenge Dairy; I used their cream cheese in the filling and butter in the crust of these cherry cheesecake bars and we loved every bite!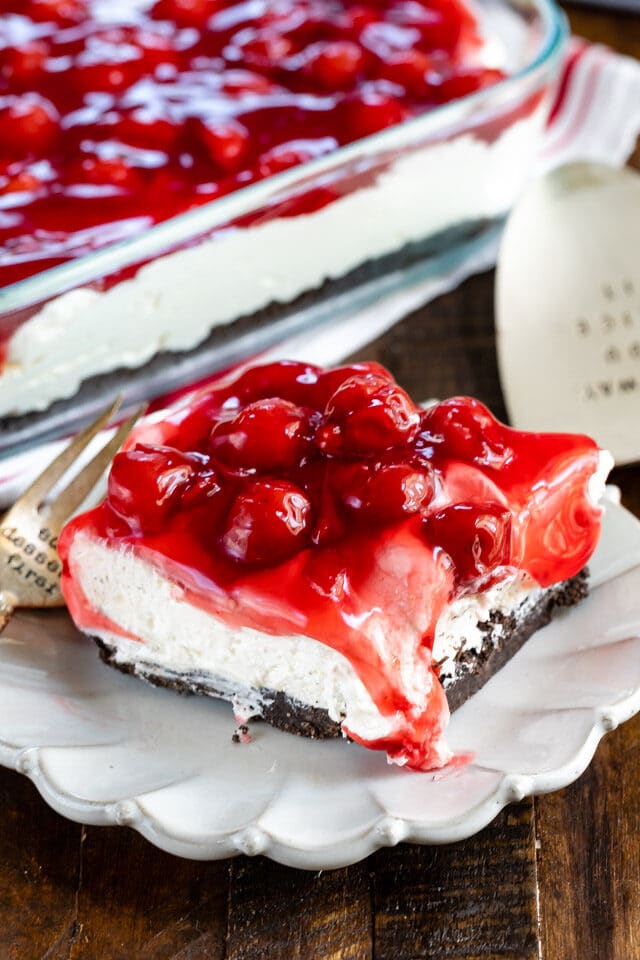 I knew the hot weather would get here (it's in the 90s this week) but I really enjoyed our longer cooler spring. It rained through Memorial Day weekend here in Sacramento and then the next day hit 80°F. Sometimes I think that Mother Nature is crazy!
Now that we've hit the hot temps I think about two things: pool party potlucks and no bake desserts! I love having friends over to grill in our new backyard and I do not want to turn on my oven in this heat. Hence: no bake cherry cheesecake no bake dessert!
When looking for a fun recipe that satisfies both of those requirements, this one is for you. No bake desserts are perfect for summer and these layered dessert recipes are the best for potlucks, don't you think? 
This easy Cherry Cheesecake Dessert is no bake and screams summer to me with all those cherries on top!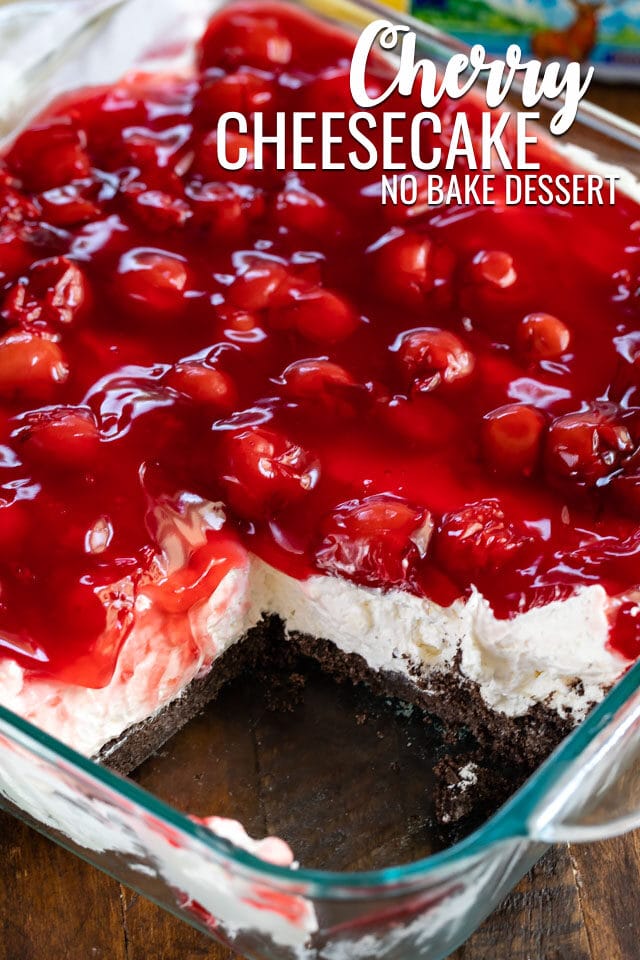 Really, all three of these layers are heaven, don't you think? I had to re-home this dessert the second I made it because I knew I would attack it with a fork. There's something about no bake cheesecake and Oreo crust that I just can't get enough of. Add pie filling on top and well, enough said!!
There are lots of ways to make a cherry cheesecake lush like this. I've seen it made with graham cracker crust, vanilla wafers, and even with shortbread crust. You can make it with heavy cream or whipped topping, pudding mix or just plain with cream cheese. I like this the simple way: with a cookie crust and a no-bake cheesecake filling.
No matter what you call it: cherry cheesecake surprise, delight, lush, or dream dessert, it's easy, foolproof and so, so good.
The post No Bake Cherry Cheesecake Dessert appeared first on Crazy for Crust.