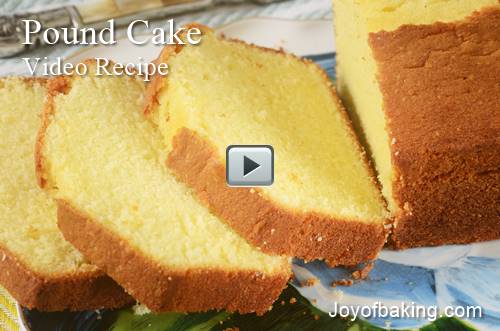 Pound Cakes are so named because originally they were made with one pound of butter, one pound of sugar, one pound of eggs, and one pound of flour. In France, a Pound Cake goes by the name Quatre Quarts, which means four quarters, referring to the quantities of the ingredients. While the Pound Cakes we make today often have different proportions from the original recipe, and often contain baking powder or baking soda, they are still wonderfully rich, moist, and buttery with a lovely golden brown crust.
This Pound Cake recipe uses a slightly different method to mix the batter. Instead of the more common 'creaming' method where the butter and sugar are beaten together first and then the eggs, followed by the flour and milk are added, this recipe uses what we call the 'one bowl' or 'quick method' (also known as a 'dump' cake). The most important thing to remember when using this 'one bowl' method is to have all the ingredients at room temperature and to make sure you follow the instructions on mixing. This method first mixes all the dry ingredients together and then room temperature butter, along with the liquid ingredients, are beaten into the batter. This method reduces the gluten formation in the flour thereby producing a dense textured cake with a soft and tender crumb.
This cake is delicious plain or with just a dusting of powdered sugar. You can also serve it with fresh fruit along with whipped cream or ice cream. You might also like to try toasting a slice or, an even better idea, is to make grilled pound cake. Jane Rodmell in her book 'Best Summer Weekends' tells us to beat an egg with two tablespoons each of milk and Grand Marnier and then dip each slice of cake into this mixture, as you would French Toast. Then place the slices of cake on the grill, browning each side. Serve for dessert along with fresh berries and whipped cream. Absolutely delicious.
Click here for the video and recipe.
More Recipes at Joyofbaking.com
Article and Demonstration by Stephanie Jaworski
Photo and Videography by Rick Jaworski
© 2019 iFood Media LLC