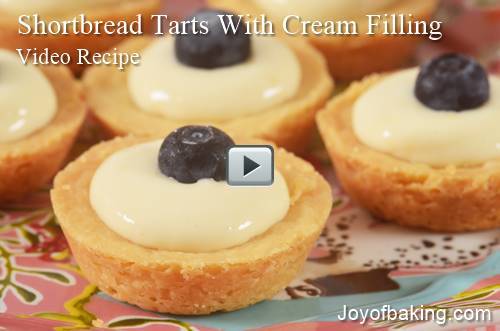 These bite-sized Shortbread Tarts are irresistible. They are made with a buttery shortbread that is wonderfully tender crisp. After baking, each tart shell is filled with a creamy No Bake Cheesecake Filling. Delicious on their own, but I think they are especially tasty when studded with fresh berries (blueberries, raspberries, blackberries, and/or strawberries).
If you're Canadian, you're probably familiar with the "Best of Bridge" cookbooks. This recipe is from one of their cookbooks and it is a family favorite. I have been making them for years. Now, to make the tart shells we start with a shortbread dough that contains a little cornstarch (you could also use rice flour), which makes the shortbread tender crisp. Once the dough is made, you press small rounds into miniature muffin cups (if possible use a non stick pan). Then I like to place the shortbread-lined pan into the freezer while I preheat the oven, as this will firm up the shortbread and helps to prevent them from puffing up during baking. But if the shortbread still puffs up, lightly prick the centers of each shortbread with the tines of a fork, about halfway through baking.
The shortbread tarts are filled with a No-bake cheesecake filling, made with cream cheese, sweetened condensed milk, freshly squeezed lemon juice and zest, and pure vanilla extract. When you first make this filling it is quite soft so it needs to be refrigerated until it becomes firm (like pastry cream). So at least eight hours, but preferably overnight. I also find that a day or two of chilling really improves the flavor of the filling. In fact, the filling can be made and stored in the refrigerator for up to a week.
A few notes on the ingredients. Use a full fat (regular) cream cheese. Don't use fat free cream cheese as it's too soft and will prevent the filling from becoming firm. Along with the cream cheese, the filling is made with sweetened condensed milk, which is actually a ready made concentrated sugar syrup. It is made from a mixture of whole milk and sugar that has had about 60 percent of its water removed. Its consistency is thick and sticky (like honey) and it is very sweet tasting. When choosing lemons use organic if possible. Look for ones that are fragrant with brightly colored yellow skins. The best ones are firm, plump, and heavy for their size. Don't buy lemons that have blemishes, soft spots, or are hard and wrinkled. Lemons consist of a yellow outer rind (skin) that can be of varying thickness and graininess, and can have either a bumpy or a smooth texture. This outer skin is where most of the lemon's wonderful tangy flavor is located. Before removing the outer rind (zest) make sure you wash the lemon thoroughly (soap and water is best). When removing the zest do not remove the white membrane (pith) that is underneath as it is very bitter tasting.
Click here for the video and recipe.
More Recipes at Joyofbaking.com
Article and Demonstration by Stephanie Jaworski
Photo and Videography by Rick Jaworski
© 2019 iFood Media LLC