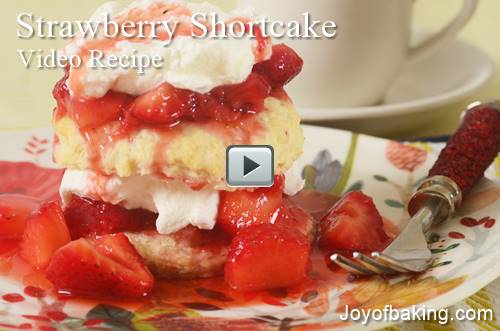 Strawberry Shortcake needs to be made when fresh strawberries are in season. To make this dessert you start with a buttery Biscuit (Scone) that has a crisp exterior, yet inside it is soft and fluffy. First, cut the Biscuit in half, preferably while it's still warm, and place it on your plate. Next, on the cut side of your Biscuit, place a large spoonful of fresh strawberries, along with their juices, that have been cut into bite size chunks and macerated in sugar. Top with a large dollop of whipped cream. Then place the top of the Biscuit on the whipped cream and garnish the top with even more strawberries and whipped cream. This is casual food at its best, perfect during the summer months at backyard barbecues and other informal gatherings.
A few things to keep in mind when making Biscuits (Scones). Always have the butter, eggs, and milk cold. Add the liquid to the dry ingredients and mix everything together quickly and lightly.
Next, the strawberries. Always buy strawberries when they are in season. Look for ones that are bright red, plump, and firm, with no white or green "shoulders" at the stem end. The green leaf-like cap or hull should still be attached and it should not be brown or wilted. There should be no soft spots, bruising or mildew. Always check the underside of the container to make sure there are no squashed berries or juice (sign of overripe berries). Before using, remove the stems from the berries and lightly wash them (do not soak). Cut the berries into bite size pieces and place about one third of the strawberries in a large bowl and crush them with a potato masher or fork. Add the remaining sliced strawberries, along with the sugar. If possible, set aside to macerate at room temperature for about 30 to 60 minutes as this will soften the berries and allow them to release some of their juices.
And finally, the Cream. Cream is the fat that rises to the top of whole milk. It has a smooth, satiny texture and is labeled according to its butterfat content (heavy to light). When making this dessert use 'Heavy' Cream or Heavy 'Whipping' Cream which means it has a 36 – 40% butterfat content that will double in volume when whipped and hold its form.
Click here for the video and recipe.
More Recipes at Joyofbaking.com
Article and Demonstration by Stephanie Jaworski
Photo and Videography by Rick Jaworski
© 2019 iFood Media LLC